The 10th edition of the e-Commerce 2013 (EC) International Conference was hosted in Prague, Czech Republic, during 24 to 26 July, 2013 and was co-organised by The University of Economics in Prague (VŠE), Czech Republic. This conference was part of the IADIS Multi Conference on Computer Science and Information Systems 2013, 22 - 26 July.
The e-Commerce 2013 Conference was a major international and interdisciplinary event for researchers, academics, industry specialists, practitioners & students interested in the advances in, and applications of e-Commerce. Participants had an opportunity to present and observe the latest theories, models and results in these areas. This conference covered both technological as well as non-technological issues related to this new business paradigm.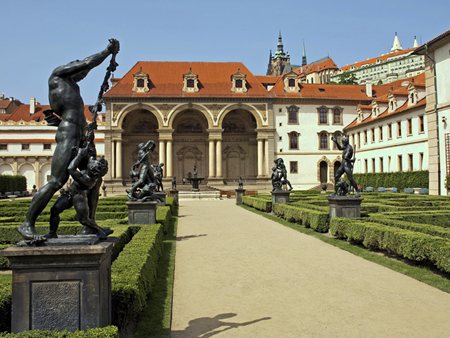 The following five main areas have been the object of paper and poster submissions within specific topics:
- Commerce Technology;
- Global e-Commerce;
- Online Management;
- Online Business Models;
- Regulatory/Policy Issues.
The e-Commerce 2013 received 44 submissions from more than 18 countries. Each submission has been anonymously reviewed by an average of four independent reviewers, to ensure that accepted submissions were of a high standard. Consequently only 7 full papers were approved which means an acceptance rate of 16 %. A few more papers were accepted as short papers and poster.
An extended version of the best papers were selected to be published in the IADIS International Journal on Computer Science and Information Systems (ISSN: 1646-3692) and/or in the IADIS International Journal on WWW/Internet (ISSN: 1645-7641) and also in other selected journals, including journals from Inderscience. Some of the best papers will be eligible to be extended and enhanced as book chapters for inclusion in a book to be published by IGI Global.
Besides the presentation of full papers, short papers and posters, the conference also included a keynote presentation from an internationally distinguished researcher. We would therefore like to express our gratitude to Professor Ashok Ranchhod, Winchester School of Art, University of Southampton, UK.

Keynote presentation

"TOUCHING THE E-CUSTOMER"

by Professor Ashok Ranchhod

Winchester School of Art, University of Southampton, UK
Abstract

This keynote will look at the key developments in technology that are shaping the way corporations engage with consumers and themselves. The growth in gaming is changing the way in which advertisers are linking up with consumers and engaging them with the products and services on offer. At the same time companies are beginning to use the new tactile technology to get customers to engage with products and services through mobile devices such as touchscreen phones and tablets. These are creating new dynamics for grabbing the attention of individuals in a crowded and global marketplace.
The keynote will illustrate the latest ways of customer engagement, giving examples from work undertaken with organisations at the Games Design Hub at the Winchester School of Art at the University of Southampton and by a range of other companies working within the marketing and media sector.
The EC 2013 Conference proceedings were published in Book (ISBN: 978-972-8939-91-5) by IADIS Press.

Program Committee Members:
Abel Usoro, University of the West of Scotland, United Kingdom
Adam Wojciechowski, Poznan University of Technology, Poland
Adina Magda Florea, Politehnica University Of Bucharest, Romania
Ahmad Nadali, Islamic Azad University, Iran
Alberto Caballero, The Catholic University Of San Antonio Of Murcia, Spain
Alex Norta, University Of Oulu, Finland
Ali Ahmad Alawneh, Philadelphia University, Jordan
Amelia Badica, University Of Craiova, Romania
Antoni Meseguer-Artola, Universitat Oberta De Catalunya, Spain
Antonio Ruiz Martínez, University of Murcia, Spain
Aristogiannis Garmpis, Technological Educational Institution Of Messolong, Greece
Arthur Csetenyi, Budapest Corvinus University, Hungary
Asher Rospigliosi, Brighton Business School, United Kingdom
Bernard Batinic, Johannes Kepler University Linz, Austria
Bill Vassiliadis, Technical Educational Institute of Mesolonghi, Greece
Borislav Josanov, Novi Sad Business School, Serbia
Carla Ruiz Mafe, University Of Valencia, Spain
Carlos Flavián, Universidad De Zaragoza, Spain
Chia-chen Lin, Providence University, Yaiwan
Christian Kittl , evolaris next level, Austria
Christian Schloegl, University of Graz, Austria
Christos K. Georgiadis, University Of Macedonia, Greece
Costas Lambrinoudakis, University of Piraeus, Greece
Costin Badica, University Of Craiova, Romania
Dennis Tachiki, Tamagawa University, Japan
Dimitrios Rigas, De Montfort University, United Kingdom
Dimitris Kanellopoulos, University Of Patras, Greece
Dragan Cisic, University Of Rijeka, Croatia
Ejub Kajan, State University of Novi Pazar, Serbia
Emmanouel Varvarigos, University Of Patras, Greece
Euripidis Loukis, University Of The Aegean, Greece
Fahim Akhter, King Saud University, Saudi Arabia
Fernando Pereniguez Garcia, University Of Murcia, Spain
Francisco J. Martinez-Lopez, University of Granada, Spain Franz Lehner, Universitaet Passau, Germany
Gen-yih Liao, Chang Gung University, Taiwan
George Weir, University Of Strathclyde, United Kingdom
Georgios Kambourakis, University Of The Aegean, Greece
Georgios Karopoulos, JRC, Italy
Hana Horak, Faculty Of Economics And Business, Croatia
Harekrishna Misra, Institute Of Rural Management Anand, India
Hiroaki Fukuda, Shibaura Institute of Technology, Japan
Inma Rodriguez-Ardura, Open University of Catalonia (Universitat Oberta d, Spain
Isabella Mader, NetHotels AG, Austria
Ivan Bedini, Alcatel-lucent Bell Labs, Ireland
Ivan Strugar, Universitiy Of Zagreb, Croatia
Jan Richling, Technische Universitaet Berlin, Germany
Jeroen Doumen, Irdeto, Netherlands
Jieh-Shan Yeh, Providence University, Taiwan
Joerg Schneider, Technical University Of Berlin, Germany
Johann Hoechtl, Danube University Krems, Austria
Jose Marti Parreno, Universidad Europea De Valencia, Spain
Josef Herget, Excellence Institute, Austria
Julian-Paul Haslinger, University Of Applied Sciences Hagenberg, Austria
Kamel Rouibah, College Of Business Administration, Kuwait
Klaus Turowski, Otto von Guericke University Magdeburg, Germany
Li Hua, Inner Mongolia University, China
Marco Furini, University Of Modena and Reggio Emilia, Italy
Marco Mevius, HTWG Konstanz, Germany
Markus Schranz, Vienna University Of Technology, Austria
Masrah Azmi Murad, Universiti Putra Malaysia, Malaysia
Matjaz Gams, Jozef Stefan Institute, Slovenia
Meltem Sonmez Turan, National Institute Of Standards And Technology, Usa
Michael Merz, Ponton Consulting, Germany
Michalis Xenos, Hellenic Open University, Greece
Mirjana Pejic, University Of Zagreb, Croatia
Miroslav Rezac, University Of Economics, Czech Republic
Nahed Azab, The American University in Cairo, Egypt
Noha Saleeb, American University In Cairo, Egypt
Noor Akma Mohd Salleh, University Malaya, Malaysia
Nordin Bin Zakaria, Universiti Teknologi Petronas, Malaysia
Oshadi Alahakoon, Victoria University, Australia
Patricio De Alencar Silva, University Of Tilburg, Netherlands
Paul Cunningham, IIMC, Ireland
Pere Tumbas, Faculty Of Economics University Of Novi Sad, Serbia
Peter Parycek, Danube University Krems, Austria
Rafiqul Haque, University College Cork (ucc), Ireland
Rainer Schmidt, Aalen University, Germany
Rajendra Akerkar, Western Norway Research Institute, Norway
Richard Millham, Durban University Of Technology, South Africa
Ruimin Liu, Kunming University Of Science And Technology, China
Said Assar, Institut TELECOM Sud Paris, France
Shukor Abd Razak, Universiti Teknologi Malaysia, Malaysia
Sini Ruohomaa, University Of Helsinki, Finland
Sokratis Katsikas, University Of Piraeus, Greece
Spiros Sirmakessis, Technological Educational Institute of Messolongi, Greece
Spyros Kokolakis, University of the Aegean, Greece
Stefanos Gritzalis, University of The Aegean, Greece
Stephen Burgess, Victoria University, Australia
Steven Furnell, Plymouth University, United Kingdom
Vaclav Subrta, University Of Economics, Czech Republic
Vassilis Triantafillou, Technological Educational Institution Of Messlongh, Greece
Xiaowei Shao, University of Tokyo, Japan
Xudong Luo, Sun Yat-sen University, China
Yannis Stamatiou, University Of Ioannina, Greece
Yehia Taher, University Of Tilburg, Netherlands
Yingjie Yang, De Montfort University, United Kingdom
Yves Roy, University Of Poitiers, France
Zoltan Szabo, Corvinus University Of Budapest, Hungary